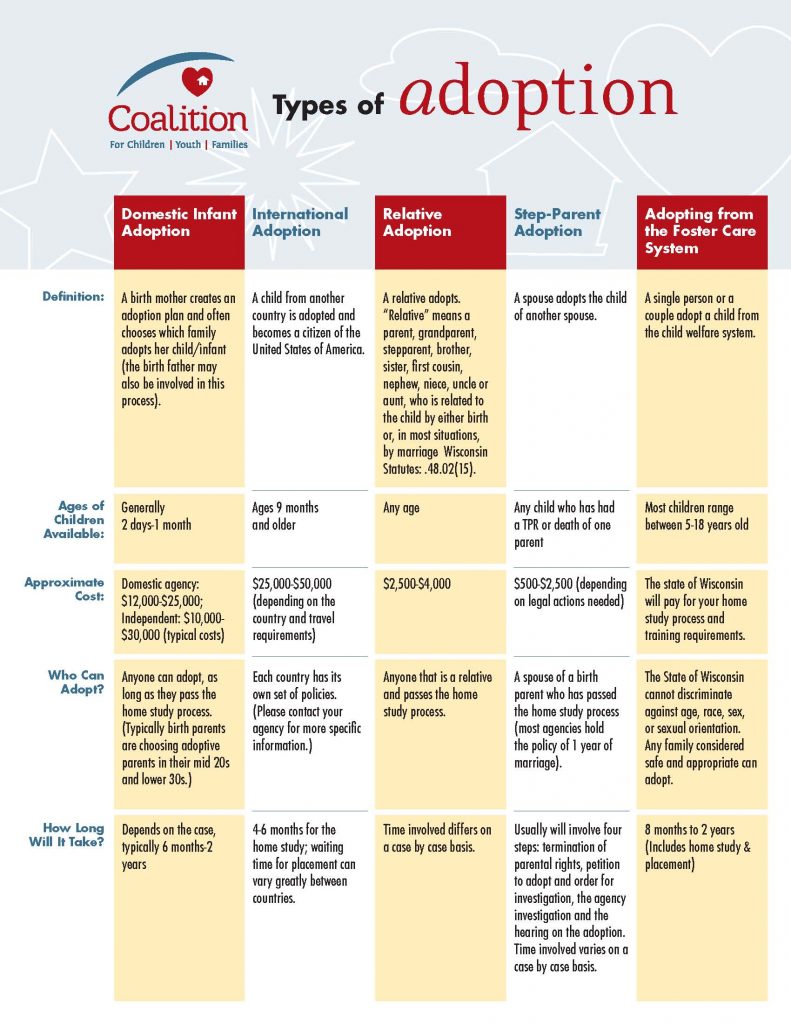 Domestic Adoption is when a birth mother creates an adoption plan and often chooses which family adopts her child/infant. The birth father may also be involved in this process. Download our Domestic Infant Adoption info packet.
International Adoption is when a child from another country is adopted and becomes a citizen of the United States. Download our International Adoption info packet.
Stepparent Adoptions typically take place when a spouse wants to become the legal parent of their spouse's child. As with all adoptions, there are requirements to fulfill and a legal process to complete. Download our tip sheet about stepparent adoption.
Relative Adoption. Relatives adopt children for various reasons, but typically do so to allow children to maintain family bonds and connections.If you are looking to adopt a child who is related to you because that child's birth parents are making a plan of adoption, you will need to complete a Relative Independent Adoption. For more information on how to do this, please download our Domestic Infant Adoption information packet. If you are seeking to adopt a child who is related to you and who entered your care through the child welfare system, you should go forward with a public child welfare adoption. For additional information, please download our adopting from foster care information packet.
Adopting from the Foster Care System (also called "special needs adoption") consists of creating a forever home for children who cannot be successfully reunited with their birth families for a variety of reasons. You may have heard about the thousands of children in the United States who linger in foster care each year waiting for a family. No one wants this to be a child or teen's reality. As you are beginning your information-gathering journey, we want you know that 70% of the children who enter Wisconsin's foster care system are successfully reunited with their birth families. Many of the children who enter foster care in our state need love and care for shorter periods of time from foster parents.So what about the other 30%? When children cannot be successfully reunited with their birth families, the child welfare system works to locate a family through adoption or guardianship. The good news for the children in Wisconsin's system is that, 80% of the time, those families are either relatives or the foster parents they currently live with. This is good for children because it means fewer moves and less disruption in their lives. What this means, is that the percentage of children in need of an unknown or new forever family is smaller than what is sometimes perceived by those wishing to adopt. Nonetheless, these children need parents and highly committed, patient, flexible, and enduring families. Many of the children and youth for whom we are hoping to help find permanent family connections have been involved in the child welfare system for an extended period of time and possess emotional scars as a result of abuse, neglect, or even abandonment.
These children and older youth are looking for parents who believe they can meet their needs and challenges while appreciating the reward of making small changes that lead to a lifetime of hope and success. If you are ready to make a lifetime commitment, we encourage you to continue learning more about adopting children from foster care. Download our information packet about adopting a child from foster care.